Life lessons from the track in 2021 and beyond
I have loved cycling for over two decades now. I began because of a strange obsession I developed with the Tour de France. I never knew it then but I love the passion, the defeat and the glory.
It is thanks to someone great that I began watching F1 and MotoGP and for the very same reasons.
After all what is life without passion, overcoming the odds and glory?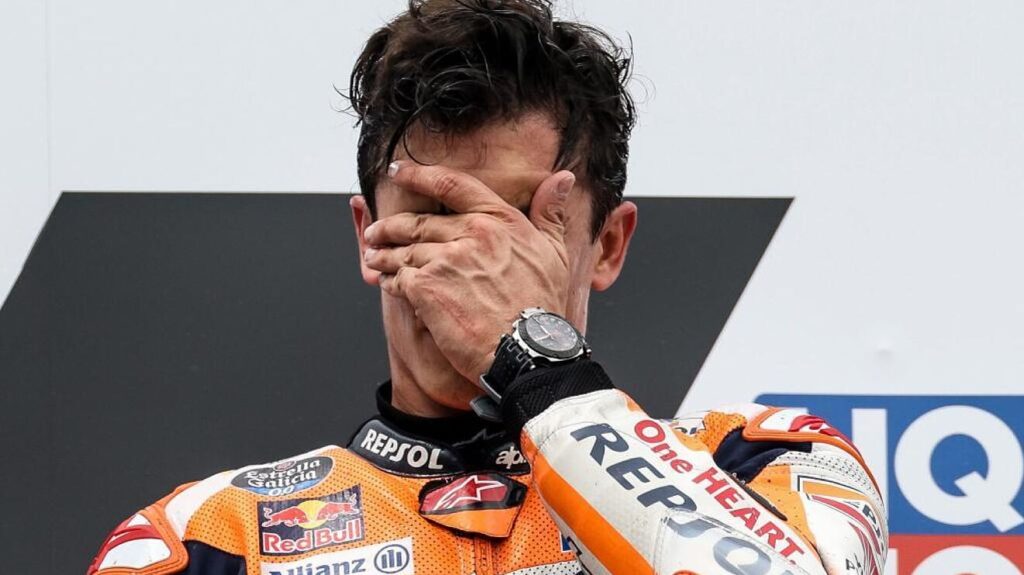 Marc Márquez is a Spanish Grand Prix motorGP rider and one of the most successful motorcycle racers of all time, with eight Grand Prix world championships to his name.
Who cares? Well I wouldn't blame you if you didn't and to be honest I didn't particularly until I witnessed how he's handled 2021. This is where the story gets interesting.
The eight-time champion suffered a broken humerus in his right arm after crashing in July 2020 and underwent surgery the day after to fix a titanium plate into his arm ahead of an attempt to race the following weekend. Alas Marquez was forced to pull out of the race the following weekend and underwent another procedure a week later, replacing the titanium plate that had been damaged after opening a door at his home while in recovery.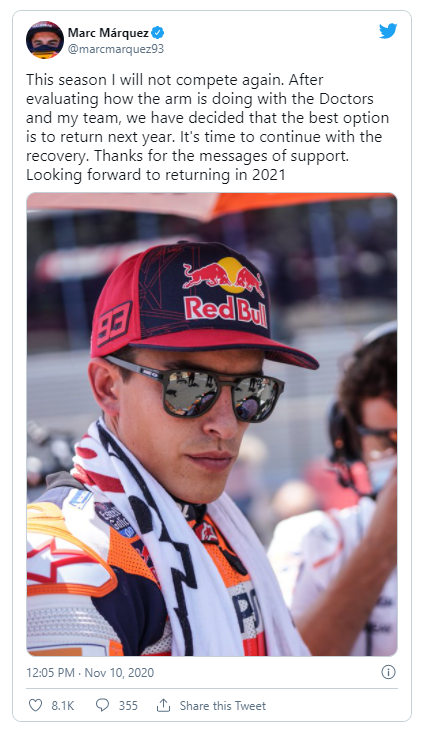 Marquez crashed heavily in a test at Valencia in November 2019 injuring his shoulder, a year after a similar accident hurt his other shoulder. No stranger to physical pain, the world champion started the 2021 season with a number of emotional blows in a series of accidents back on the MotoGP track. The critics began to question whether the champion could return to his former glory but the Honda rider resisted pressure in June 2021 to claim his and Honda's first MotoGP victory in 581 days since the 2019 Valencia GP at the German MotoGP.
That's almost 18 months without a victory. How many of us have felt like its been 18 months without a victory?
Okay great story but so what?
I don't care who you are but in the last 18 months you've probably felt like your life has crashed or you've been in a tight corner. Whilst you may not see yourself as an athlete or MotoGP rider competing with the best in the world but let me tell you that you're more like the superheroes of MotoGP than you might have realised.
Here are some of the lessons I've taken away from the last 18 months and my life's crashes…
Face things, regroup and focus forward
There's nothing quite like a heart been broken or shattered by a dream not realised. It may be air, food and water that keeps us alive but it's these dreams within our hearts that truly make us live. So it's okay to cry when you've lost a a dream or it's been on hold for so long, you feel like it's never going to come to life.
That's how you know it's real. It lives in your heart.
I know that feeling and it sucks! You can't however avoid the facts. If your arm is broken or your marriage is over or you've had to sell your house to stay afloat, it's the same thing. You have to face those facts. And it's painful, often it is really really painful and there's no point in denying the facts. Sometimes we're in a tight corner. It's not that something has crashed but rather that we're feeling squeezed. That's ok. In fact, in order to go forward, you will have to acknowledge the pain.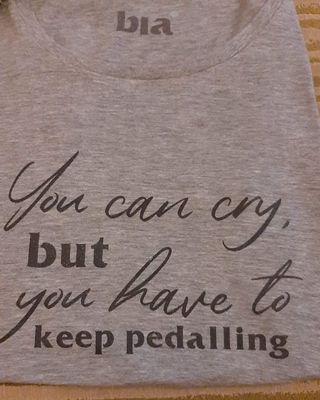 My best friend always tells me on the bicycle "you can cry but I have to keep peddling". True story. So…
Have a conversation. Cry. Go for therapy. Go to the doctor. Get the operation. Rest. AND THEN KEEP PEDDLING
And take just the step you need to every day in order to focus forward. The problem when we crash or are in a tight corner is often that we either avoid looking at what's happening and try to pretend it doesn't exist or we drown in it and all we see are broken parts and pieces.
Sometimes when we are struggling all we need is a moment to acknowledge how we feel. Then it's a matter of figuring out how to regroup and focus forward. Whether that moment is a minute or months will depend on you.
"But then after third operation, it was hard because it was 10 days I was in hospital and on those days the feeling was not the best one.

"But since then, I started to make some steps with the arm, on the feeling and then I tried to be always optimistic

Marc Marquez
When you focus forward, you plan the next step. Even just one. What is the next step? Don't focus on the whole situation because your mind will go into a spin. Just the next step. What is the one step you need to take in focusing forward?
You have a choice
In the toughest time of my life, I thought "okay Lisa, you don't have to live. I give you permission to take the way out if you really want" and yet I chose life. And yet as we've seen, there's never been a more precious commodity than to be alive.
Given life, there's a choice.
How do you want to live today?
Who do you want to spend time with?
What do you want for your future?
Some of my life's craziest experiences have happened because of a choice. I'm sure yours too. We find out who we are when we're forced to make choices.
There's nothing like a crash or a tight corner to give you perspective and force you to reconsider things. And if you don't want to change things, well then you know you're on the right track. In 2020 or 2021, no one would have blamed Marc Marquez for throwing in the towel in MotoGP. Not all of us have the same luxury career-wise but it's a choice. Sometimes it seems like no choice at all but there's always a choice and sometimes that choice is simply a matter of not changing who we are.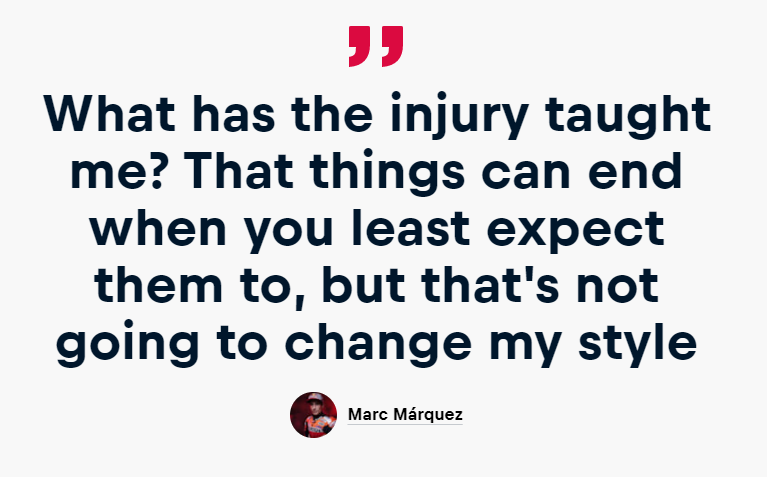 At the end of the day look in the mirror and if you did your best and took a step you will sleep peacefully and if not, well then you get to choose again tomorrow.
Silence the critics and start fresh EVERY day
You can't do this. It's too hard. I'll never get back there. I'm broken. Others are just lucky and I'm not., I've made too many mistakes, I'm a failure. You're an idiot…
I know these voices well. And most likely so do you because they often come out in our most difficult times. All of these are BULLS***. These poor voices inside recognize we have crashed and are trying to prevent further pain but the truth is all they do is perpetuate it. Sometimes you can't silence them but that doesn't mean you have to listen to them either. If we listened to every thought we'd never get out of bed in the morning.
Critics live inside and out. My teachers at school told my parents not to send me to university as they said I'd never pass. Thankfully they never passed on the message. I was diagnosed with Lyme disease and my doctor told me I needed to rest and go on a strict programme for recovery. I never listened. It's been my life story. If we always listened to the critics, we'd never achieve anything. Use their voices and words as fuel.
One of the reasons I've always loved sport is just how accurately it portrays the journey of life. Recently when watching Movistar's documentary "The Least Expected Day" I realised that just because you have a victory the one day doesn't mean you will have it the next. On any given day start fresh. If you treat victory and defeat both as equally wise teachers than you will know what it means to be truly successful.
Celebrate the victories and then start fresh. Acknowledge defeat and then start fresh.
The problem with many of us is that we wake up and within 5 minutes have remembered what happened yesterday and how we feel about it but yesterday is gone. What do you want to do today? What do you need to do today? How do you want to feel today? If you want to feel different, you have to forget the same thoughts you had yesterday.
After all what is life without passion, overcoming the odds and glory?
This is life. It's a track. The only difference is that everyday we race against ourselves.
Remember this…