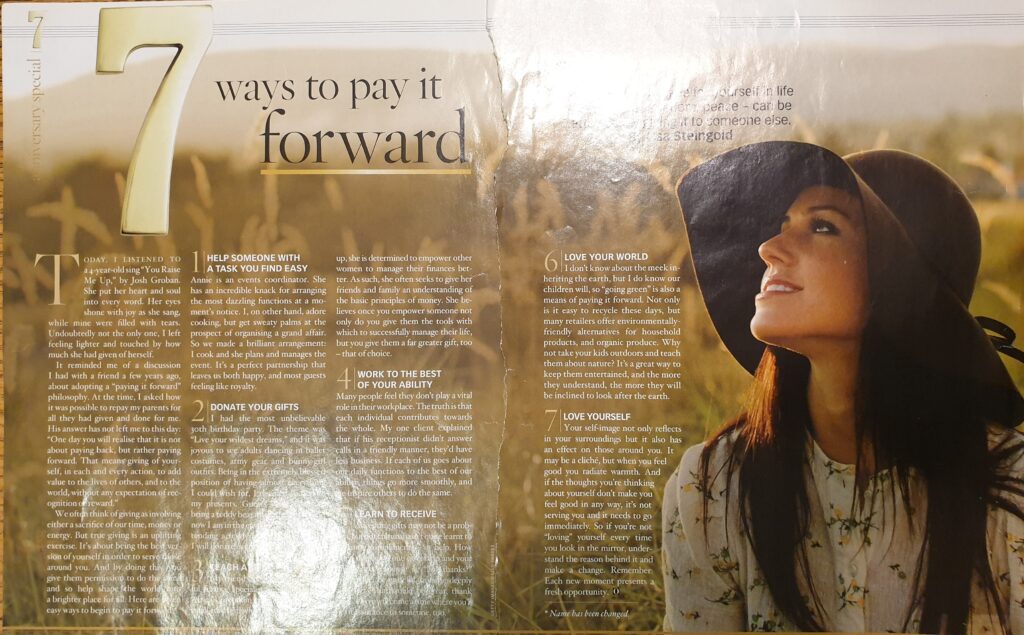 TODAY. I LISTENED TO a 4-year-old sing "You Raise Me Up." by Josh Groban. She put her heart and soul into every word. Her eyes shone with joy as she sang, while mine were filled with tears.
Undoubtedly not the only one, I left feeling lighter and touched by how much she had given of herself. It reminded me of a discussion I had with a friend a few years ago, about adopting a "paying it forward" philosophy. At the time, I asked how it was possible to repay my parents for all they had given and done for me.
His answer has not left me to this day: "One day you will realise that it is not about paying back, but rather paying forward. That means giving of your- self, in each and every action, to add value to the lives of others, and to the world, without any expectation of recognition or reward."
We often think of giving as involving either a sacrifice of our time, money or energy. But true giving is an uplifting exercise. It's about being the best ver sion of yourself in order to serve those around you. And by doing this, you give them permission to do the same and so help shape the world into a brighter place for all. Here are seven easy ways to begin to pay it forward: ways to pay it forward
1. HELP SOMEONE WITH A TASK YOU FIND EASY
Annie is an events coordinator. She has an incredible knack for arranging the most dazzling functions at a moment's notice. 1, on other hand, adore cooking, but get sweaty palms at the prospect of organising a grand affair, So we made a brilliant arrangement: I cook and she plans and manages the event. It's a perfect partnership that leaves us both happy, and most guests feeling like royalty.

2. DONATE YOUR GIFTS

I had the most unbelievable 30th birthday party. The theme was "Live your wildest dreams," and it was joyous to see adults dancing in ballet costumes, army gear and bunny-girl outfits. Being in the extremely blessed position of having almost everything I could wish for, I decided to donate my presents. Guests were asked to bring a teddy bear instead of a gift, and now I am in the enviable position of attending a teddy bear's picnic, where I will donate over 50 teddy bears!

3. TEACH A SKILL

My friend, Ayanda," is a successful finance specialist at one of South Africa's premium private banks. As a small-town girl who has worked her way up, she is determined to empower other women to manage their finances better. As such, she often seeks to give her friends and family an understanding of the basic principles of money. She believes once you empower someone not only do you give them the tools with which to successfully manage their life,
but you give them a far greater gift, too that of choice.

4. WORK TO THE BEST OF YOUR ABILITY

Many people feel they don't play a vital role in their workplace. The truth is that each individual contributes towards the whole. My one client explained that if his receptionist didn't answer calls in a friendly manner, they'd have less business. If each of us goes about our daily functions to the best of our ability, things go more smoothly, and we inspire others to do the same.

5. LEARN TO RECEIVE

Accepting gifts may not be a problem, but our culture hasn't quite learnt to welcome compliments – or help. How often does someone offer help and your immediate response is, "No thanks?"
Next time, be grateful, breathe deeply and say, "That would be great, thank you." There will come a time where you'll be of assistance to someone, too.

6. LOVE YOUR WORLD

I don't know about the meek inheriting the earth, but I do know our children will, so "going green" is also a means of paying it forward. Not only is it easy to recycle these days, but many retailers offer environmentally-friendly alternatives for household products, and organic produce. Why not take your kids outdoors and teach them about nature? It's a great way to keep them entertained, and the more they understand, the more they will be inclined to look after the earth.

7. LOVE YOURSELF

Your self-image not only reflects in your surroundings but it also has an effect on those around you. It may be a cliché, but when you feel good you radiate warmth. And if the thoughts you're thinking about yourself don't make you feel good in any way, it's not serving you and it needs to go immediately. So if you're not "loving" yourself every time you look in the mirror, understand the reason behind it and make a change.
Remember:
Each new moment presents a fresh opportunity. O