You know I have to say that listening to all the voices in my head can get somewhat tiring. In addition I have to say that it's often someone else's perspective on life that shifts my own or just opens my eyes to something new. There are a few people I "follow" on LinkedIn and in the real world who's views have really piqued my interest. One of these such people is Mnotho Mtshali. Mnotho works for Unilever in their Southern Africa division and lived in London town when I spent time there too in 2018.
I actually think that his introduction on LinkedIn does more justice than I can ever do so without further adieu, I present you with Mnotho;
Mnotho Mtshali will be remembered as the most foolish, yet hungriest man that never stopped learning. He is an energetic & enthusiastic individual whose sole purpose is to Get up, Be Amazing and Go Back to Bed. An unshakable optimist, He is a creative visionary who has a passion for people, self-actualisation, travel and speaking. One of his mantra's he lives by and continues to be his compass, is treating your mind like a garden by being cognisant of which thoughts you let manifest in your mind.
He is currently in his 4th year at Unilever and is a graduate of the Unilever Future Leader's Program. Equally, when he is not giving talks to incoming graduates he is pursuing his passion of behavioural economics, which is the economic research of why people do the things they do.
In tribute to his name meaning wealth in Zulu, He aims to cultivate this in his Mind, Body & Finances. In honour of his surname, Mtshali meaning planter, he will plant the seed of wealth for the world, for all to enjoy the fruits. That will be his legacy.
******
Mnotho and I were meant to meet at an event in London and although neither of us ended up going, we've kept in touch and I follow his posts on social. From my interaction with Mnotho, I can say he's a deep thinker who seeks to succeed in his work and bring light to those around him. Ironically it was one of his posts on LinkedIn the other day that just made me want to reach out and grab a coffee with him. So I did, virtually and I'm really glad I did.
In the weeks and months to come, in between my own ramblings about life, cycling, MotoGP, business, human behaviour and everything else I'll be interviewing some super interesting peeps as I think their voices need to be heard in the world. Today it's Mnotho's turn. I gave him three questions (to life) that I often think about and here's what he had to say;
1. What's the answer to life? (Really I mean do you think there's such a thing or do we just take the whole life thing too seriously?)
I don't think there is a meaning to life and we waste the few precious years we have been given trying to figure this out. However I do believe that one creates meaning in their life and then lives a meaningful life. I hope that makes sense.
2. If you could take any world leader to lunch, past or present, who you think has done / is doing a crap job, who would you take, what would you say and why?
Robert Mugabe. The country he led Zimbabwe is in crisis and his people are suffering, meanwhile his family continues to gain riches. So the question I would use to open up the conversation (as i assume he is expecting the typical interview questions) is what did his father/mother teach him about life? I wonder if he thinks his behaviour is justified. I'd ask this question because it usually disarms people and makes them more vulnerable, then I can begin to ask the deeper questions and really understand his philosophy.
3. What sparked the launch of the podcast and where can we find it?
I have a passion for people and business. I seriously like meeting interesting people and hearing about their lives over a cold beer or glass of red wine depending on the weather. The reason I started the "Who I bumped into" podcast is that I am an avid podcast listener and always dreamed of one day doing my own.
Secondly I believe that we all have a story to tell and I hope that the podcast allows guests to be vulnerable for those few minutes and to really share their intimate thoughts. And lastly and most importantly, is that I do believe that it is in the midst of sharing your story, you can actually realise how unique you are, find your passion and ultimately live to your fullest potential. That's the goal.
*****
I feel it a true privilege to meet souls who really want to mould life into something meaningful and whilst Mnotho says he doesn't think about the meaning of life too much, I say #watchthisspace peeps!
Any parting thoughts?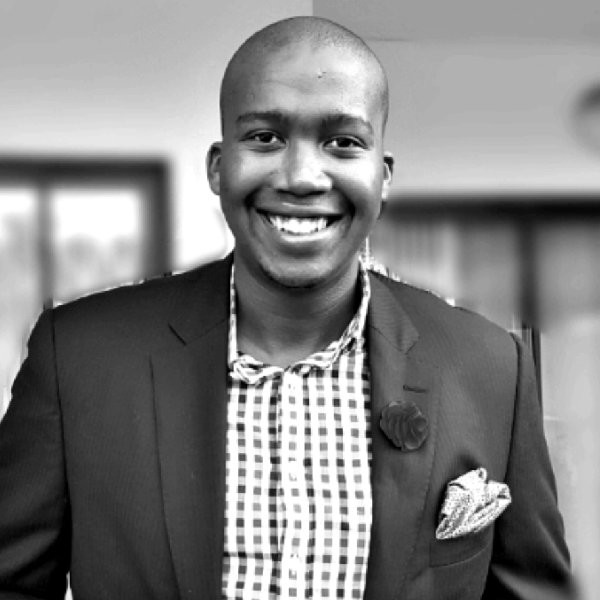 Just a side note; a business podcast is also coming soon but for now;
"There are some things in life you have to let go of. Sometimes we make so many excuses for the rope, that we find comfort in being tied down. Although we resent the limitations we are secretly glad they relieve us of the burden of freedom and risk."

Until next time my friends